About 370Z Reviews for 2013 from Nissan of McKinney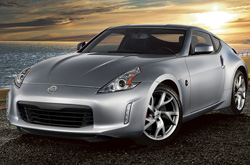 2013 Nissan 370Z reviews from Nissan of McKinney can be found underneath the video below. Our Nissan reviews are compiled by veteran automotive writers - it's just another resource we provide as a dominant Nissan franchise in McKinney TX. Every article comes bundled with important facts, specs and research - just what you need to make familiar decisions on your next Nissan 370Z purchase. Is the Nissan 370Z right for you? Read on and find out!
Watch a Video on the New 370Z
Quick Stats for the Nissan 370Z
When comparing the 2013 Nissan 370Z alongside the 2013 Hyundai Genesis Coupe, Ford Mustang, Dodge Challenger and the Chevrolet Camaro, and you'll find that the 370Z outperforms those autos in quite a few aspects. Scan just a few of the reasons below.
2013 Nissan 370Z Colors: Midnight Blue, Solid Red, Magnetic Black, etc...
2013 Nissan 370Z Seats: 2 passengers
2013 Nissan 370Z 0-60 MPH in 5.1 seconds
2013 Nissan 370Z Body Style(s): Coupe
2013 Nissan 370Z MSRP: $33,120
2013 Nissan 370Z MPG: 18 city / 26 highway
2013 Nissan 370Z Cargo Space: 7 cubic feet
Features & Trims Available to McKinney TX Nissan 370Z Shoppers
Your Nissan 370Z Comes With Built In Peace of Mind
Affordable Nissan Service in McKinney TX, Texas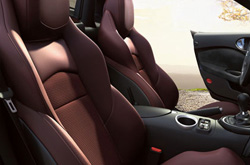 Get a full year warranty on repairs - plus access to trustworthy Nissan parts and exceptional Nissan technicians - at your dominant McKinney TX area Nissan repair center. If you evade preserving your 370Z, its parts could be diminished, so get it to Nissan of McKinney's service center in McKinney TX. Whether you come for ordinary oil changes, a manageable air filter fixes or anything else, we'll complete your Nissan repairs with finesse. Nissan of McKinney is your clear winner in McKinney TX for quick, professional Nissan service and regularly scheduled maintenance. The subsequent link is your key to insane savings. Click now to be transported to Nissan of McKinney's specials.