We'd like to speak with you!
Unfortunately, we can't value this trade as instantly as we planned. We need a little more information before we can provide an accurate appraisal. Don't worry, we're only an email or phone call away!
Your Trade-In Estimate
Good News! We can update your monthly payment amount
Save your vehicle estimate and automatically see how much it will lower your monthly payment!
Is the estimate not what you expected? Send Us a Message
* Indicates a required field
Sending this information to the dealership now will save you time when you get here. We'll have your information on file and you can skip this part of the paperwork!
Your deal summary will also be updated. Make sure you create an account or sign in if you'd like to access it in the future.
Your deal summary will also be updated and accessible any time you sign in to your account.
Don't worry if you change your mind – you can continue to adjust your deal summary at any time.

Where Can I Trade In My Car Near McKinney, TX?
Are you ready to trade in your old car for a better model? We are ready to assist you every single step of the way! We recommend that the first step you take is to use our online calculator to find out how much your trade-in will be worth. It's free and very easy to use. How much your vehicle is actually worth as a trade-in will depend on a number of factors.
The age, make, model and condition of the vehicle will all be determining factors of how much the trade-in value is worth. A newer make and model will likely garner a higher trade-in value than a model that is older and more run down. After you receive a quote, we will help you find the right vehicle and then sit down and fill out all of the necessary paperwork.
If you are still making payments on your current vehicle but would like to trade it in for a new one, don't fret. Whatever offer you receive on the car will be used to pay off your old loan. If there is still an outstanding balance due on your current vehicle, we can roll over the rest of the debt into your new car payment. You'll start off fresh with a new car and no old debt to worry about.
How Much Is My Car Worth?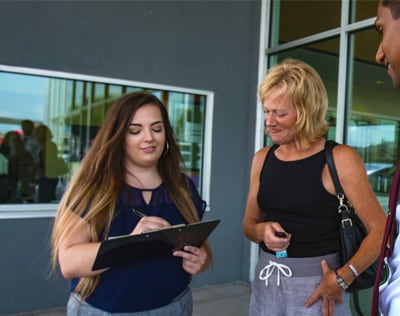 Our online calculator allows you to receive a rough estimate of how much your vehicle is worth before you actually use it as a trade-in. You do not even have to contact us or come to our showroom to find out what your car is worth. Simply begin your online appraisal by inputting all of the information on your vehicle into the calculator. Provide as many accurate details as you can to get the closest quote possible.
Remember, our service team will need to test the vehicle before giving you a final estimate. The online tool should be used to receive a rough estimate only. When you visit the showroom, we encourage you to bring any documents that show you have kept up necessary repairs and maintenance on the vehicle. By doing so you may receive a better trade-in price on the car. We want to help you get the most that you can to put towards your new ride!
What Can I Trade My Car in For?
Think about your trade-in like this- the process is like having a cash payment applied to your new vehicle. The amount you receive will be used towards any vehicle that you are considering purchasing. Our vehicle selection changes all of the time as we complete other trade-in deals and sales, so there are always different choices that you can look at. We make sure that all available vehicles have been thoroughly inspected for before we sell them. Your safety is a priority for us.
Our goal is to give you the best trade-in value for your current vehicle while finding a new one that fits your needs. We encourage all of our potential customers to browse our selection online. We also want you to use the calculator to get an estimate of your trade-in. You can also stop into our showroom any time and take a look at the vehicles we have to offer.