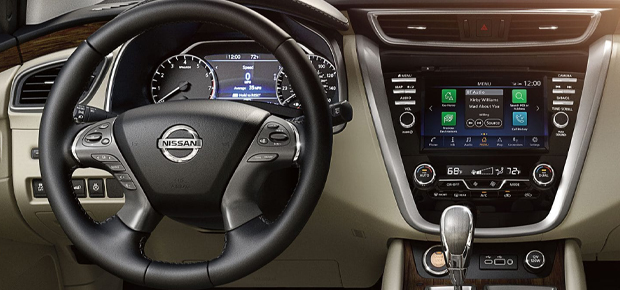 Quality Performance and Style
Nissan has been known to provide performance and style at an affordable price. For the 2020 model year, Nissan is moving one step forward by offering a number of driving and performance innovations. These new advancements are designed to give you the ultimate driving experience with the entire 2020 line-up.
Highlighting Nissan innovations is the Nissan Intelligent Mobility system. This suite of features is designed to help navigate the vehicle around all types of traffic conditions. This includes Forward-Collision Warning. Using sonar, Forward Collision Warning will alert the driver if traffic is suddenly slowing down ahead. There is also Blind Spot Monitoring System that can nudge you back into your lane if you begin to move into an occupied lane. Next, there is Nissan Intelligent Line Intervention which is designed to help keep you in your driving lane. There is also Nissan Intelligent Back-Up intervention that will stop the vehicle if you back up into a potential obstruction. The Around View Monitor will give you a 360 bird's eye view of your surroundings when parking in tight spaces. Finally, there is Nissan Intelligence Distance Control that will monitor the flow of traffic and keep you at a safe distance.
The VC-Turbo Designed For Performance
Another major innovation from Nissan is the first of its kind Variable Compression Turbo (VC-Turbo) Engine. The VC-Turbo is designed to actually change its shape to provide V-6 like performance and 4-cylinder fuel efficiency from an inline 4-cylinder turbo engine. When you need power, the engine will provide a lower compression ratio. When cruising at lower speeds, the engine will automatically expand its compression ratio to provide better fuel efficiency. Quite simply, no other engine in the world can do this
.
The entire 2020 line-up of innovative Nissan vehicles is now available at Nissan of McKinney. Take this opportunity to see the incredible 2020 Nissan line-up for yourself. Our sales team will show you all the innovative features of our most popular Nissan models. Come in and take your test drive today.