The 2012 Nissan Versa from Nissan of McKinney is the embodiment of impassioned automotive craftsmanship built to fit the needs of TX Nissan buyers. Nissan of McKinney is proud to present the 4-door 2012 Nissan Versa Compact Sedan. As your McKinney Nissan dealer, we hope you find our 2012 Nissan Versa reviews and research materials useful in finding the details, specifications and information you've been waiting for. View Nissan of McKinney's lineup of 2012 Nissan Versa Compact Sedans.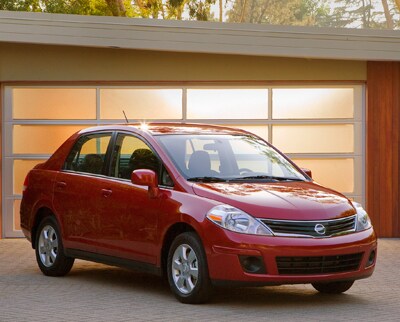 Nissan of McKinney presents the 2012 Nissan Versa Compact Sedan
Buyers find that when they compare the 2012 Nissan Versa to other makes like the Kia Rio, Hyundai Accent, Chevrolet Sonic and Ford Fiesta , the Nissan Versa shines as the most fun to drive. Look at our Quick List spec table below to see why!
The 2012 Nissan Versa has an starting MSRP of $10,990
The 2012 Nissan Versa gets 27 city / 36 highway MPG
The 2012 Nissan Versa goes from 0-60 MPH in 11.8 seconds
The 2012 Nissan Versa features 41.4 inches of legroom up front and 38 inches in back
The 2012 Nissan Versa features 40.6 inches of headroom in front and 37.9 inches in back
The 2012 Nissan Versa is 176 inches long, 66.7 inches wide and is 60.4 inches tall
The 2012 Nissan Versa weighs 2534 pounds and has a turning radius of 34.2 feet
We know you'll fall head over heels for the Nissan Versa - visit Nissan of McKinney in McKinney today!
Redesigned from the ground up, the 2012 Nissan Versa sedan is taking small cars in an all new direction. Nissan calls it the "Big Small Car" for a reason. While compact cars are a budget- and earth-friendly investment, many consumers find their tight quarters, lifeless performance and lackluster style disappointing. The Versa's manufacturers have aimed to revitalize the segment with the completely redesigned 2012 Nissan Versa. The Versa is breaking ground in the growing small car segment, offering a vehicle with inspired, contemporary styling, plenty of leg and shoulder room and a spirited performance. Now you can make the "right" choice and still get everything you want out of a car. The 2012 Versa from Nissan of McKinney offers a terrific mix of luxury and economy at an affordable starting price of just $10,990, making it a great option over vehicles like the Kia Rio, Hyundai Accent, Chevrolet Sonic and Ford Fiesta. As your chief McKinney Nissan dealer, we offer both new and used Nissan cars, trucks and SUVs, including many well-maintained, low-mileage pre-owned vehicles like the used 2011 Nissan Versa.
Environmental concerns and rising fuel costs have drawn a lot of attention to the compact car segment over the last few years. Launched in 2007, the Nissan Versa entered the automotive market at a time when consumers were taking more interest in affordable small cars with high fuel economy. Since its introduction to the American market, the Nissan Versa has gotten better and better, receiving annual powertrain enhancements and features upgrades. Nissan of McKinney now presents the next-generation 2012 Versa which has been completely redesigned for the new model year. With more room, more power and more amenities, the Versa is giving industry experts and car enthusiasts something to think about, and proving that compact cars can offer more than just practicality.
The 2012 Versa sedan will be available in three trim levels: the S, SV and premium SL. The Nissan Versa hatchback will be offered in the base S trim and the deluxe SL trim. You can find the Versa at Nissan of McKinney in vivid colors like Espresso Black Metallic, Red Alert Metallic, Magnetic Gray Metallic and Blue Onyx Metallic.
Visit our McKinney Nissan dealership to test drive the new 2012 Versa today! This unique compact car features some of the most advanced powerplants in its segment. The sedan is equipped with a 1.6-liter HR16DE four-cylinder engine that gets 109 horsepower and 107 pound-feet of torque, while the hatchback is outfitted with a 122-horsepower 1.8-liter DOHC four-cylinder engine. Transmission options for the 2012 Nissan Versa sedan from Nissan of McKinney include a five-speed manual (S trim only) and an Xtronic Continuously Variable Transmission (CVT). The CVT improves vehicle efficiency and when paired with the new engine it boosts the Versa's fuel economy by five miles. The Nissan Versa hatchback S trim can be equipped with a six-speed or four-speed automatic transmission, while the deluxe SL trim is offered with Nissan's Xtronic CVT transmission. The 2012 Versa sedan and hatchback will be the first vehicles in the U.S. to be branded with Nissan's PUREDRIVE designation. This title will only be used on Nissan car models that utilize the manufacturer's most advanced technologies to lower CO2 emissions and improve fuel economy.
With the all-new 2012 Versa, McKinney Nissan drivers will no longer have to sacrifice luxury and comfort for practicality. Now you can have a compact and affordable green car with an abundance of plush features and interior space. Available high-end amenities like power windows, USB/iPod connectivity, a navigation system, steering wheel audio controls and an advanced Bluetooth Phone System allow McKinney Versa owners to play music, make calls hands free and get directions while en route. Visit Nissan of McKinney today to learn about all of the standard and available features offered on the new 2012 Nissan Versa.
Come test drive the "Big Small Car" at Nissan of McKinney. When you step inside the 2012 Versa's lush cabin, you'll understand why Nissan's fun-to-drive, entry-level sedan has earned this fitting title. The Versa is small on the outside and big on the inside, offering McKinney Nissan owners economy and comfort. Visit us today to learn more about this ground-breaking vehicle!
Driving a Nissan Versa from Nissan of McKinney makes TX driving commodious, safe and pleasurable - all at the same time! Here are some more details:
Nissan of McKinney has a gigantic collection of 2012 Nissan Versa Compact Sedans with standard Nissan safety features like anti-lock brakes, traction control, driver airbags, passenger airbags, side airbags and more, making the 2012 Versa an NHTSA and IIHS favorite. In addition to these safety features, the 2012 Nissan Versa can pleasantly seat up to 5 passengers. Trunk space with Nissan is never a worry; the Versa can hold up to 13.8 cubic feet of your belongings, ensuring that your next trip is hassle-free. To top it all off, the 2012 Nissan Versa includes an incredible list of comfort and convenience highlights like powered windows, mirrors, doors and locks, climate control, AC and optional hands-free phone and navigation systems. Take a test drive at Nissan of McKinney today and experience the Nissan Versa for yourself.
The Nissan manufacturer's warranty covers the Versa for manufacturing defects and has a 3 years / 36,000 miles Nissan warranty. Nissan has worked for years to minimize its environmental impact; as a result, the Versa's carbon footprint is minimal. Not surprisingly, with all of the Versa's advantages, this great Nissan Compact Sedan retains a high percentage of its value at 3 years and 36,000 miles, which makes the Nissan Versa a great used buy! When seeking a safe, stylish and economical Compact Sedan, McKinney Nissan buyers should head to Nissan of McKinney, located at in McKinney, TX
Nissan Versa service information for McKinney
Nissan Versa lessees and owners in McKinney have found that Nissan of McKinney at in McKinney is the very best choice for Versa warranty work, regular maintenance, inspections and mechanical repairs. At Nissan of McKinney, Certified Nissan Technicians trained in the very latest corrective and diagnostic techniques work for one thing - your complete satisfaction. Whether it's time for your Nissan to have an oil change, serpentine belt replacement, or simply undergo Versa Scheduled Maintenance, Nissan of McKinney is your first choice. Our Certified Nissan Technicians also complete specialty jobs and repairs. Nissan of McKinney is the smartest choice in McKinney for fast, accommodating and professional Nissan Service of all kinds.
If you'd like to make an appointment to have your Versa serviced, click the link or just give us a call. Visit us today!