Whether your Nissan vehicle is new or used when you purchase it, taking excellent care of your vehicle's transmission should be your top priority. Not only will regular maintenance prevent your vehicle from breaking down, it can save tons of money in repair costs throughout the life of your vehicle. To learn more about your vehicle's maintenance needs, consult your vehicle's manual or contact our team of service professionals.
When Should I Change My Transmission Fluid?
Some vehicles require a transmission fluid change every 30,000 miles. Other vehicles may not be required to get a transmission fluid change for 75,000 miles. To determine when you should change your transmission fluid, take a look at your vehicle's manuals. If you require additional information about your vehicle's transmission service recommendations, contact our Nissan service center for prompt assistance.
What Does My Vehicle's Transmission Do?

Your vehicle's transmission provides the power for its engine. It shifts gears and ensures that your vehicle receives the correct amount of power in order for it to function in accordance with the manufacturer's design.
What Are the Signs That My Vehicle Needs a Transmission Service?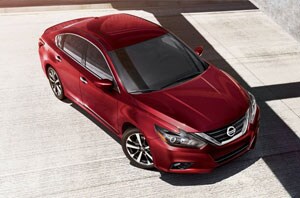 If your vehicle requires a transmission service, there are a few signs that you may notice as you are driving your vehicle. Your gears may grind, squeal or make a whining sound. You may detect a burning odor when you operate your vehicle. Your transmission fluid is a dark color. (The transmission fluid should be bright red or light pink.) Your vehicle hesitates when it shifts gears. The best thing that you can do is schedule an appointment with our service center if you notice any of these signs.
Do I Need to Hire a Mechanic to Change My Vehicle's Transmission Fluid?
Unlike changing your vehicle's windshield washer fluid, transmission services can be complicated. For that reason, you should schedule an appointment with our service center. A certified automobile mechanic has the skills to diagnose and repair your Nissan vehicle. At our dealership, we only use OEM parts that are specifically designed for your vehicle. Your vehicle's transmission problem may be caused by another component that has malfunctioned in your vehicle. If you aren't a certified auto mechanic, it's likely that you won't know how to fix the problem. Some things are best left to a professional. A transmission repair service is one of them.
Service Hours
Monday

7:00 am - 7:00 pm

Tuesday

7:00 am - 7:00 pm

Wednesday

7:00 am - 7:00 pm

Thursday

7:00 am - 7:00 pm

Friday

7:00 am - 7:00 pm

Saturday

7:00 am - 5:00 pm

Sunday

Closed