Receive an Oil Change at Nissan of McKinney
Keeping up with your manufacturer's recommended maintenance plan for your new or used car, truck or SUV in McKinney is critical when it comes to the health of your car. One of the most important services you'll regularly need performed is a routine oil change, which according to your maintenance schedule, may need to be taken care of every few thousand miles. At Nissan of McKinney, we have a team of highly-trained technicians in our service department who are able to quickly and efficiently change your car's oil, so you can get back on the road in no time. Schedule an appointment with us today to have your oil changed and we'll be happy to take care of your vehicle.
Why is an Oil Change Necessary?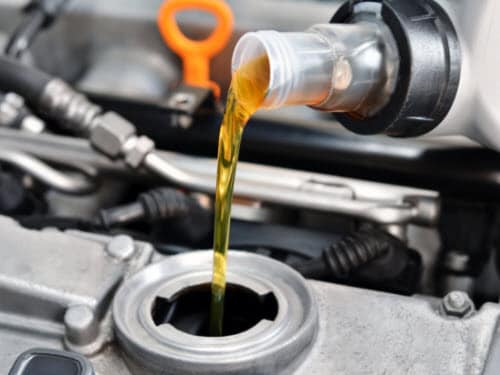 Routine oil change in McKinney is vital when it comes to maintaining your car. Overtime, high operating temperatures cause your oil to breakdown, making it a less effective lubricant, which in turn leads to worn down engine parts. Additionally, oil absorbs dust, water and combustion byproducts, which can cause corrosion within the engine and inhibit the oil's absorbing abilities. By avoiding regular oil changes, these problem will persist and ruin your car's engine, leaving you to deal with costly repairs that could have been avoidable.
When to Have Your Oil Changed at Nissan of McKinney
When you should receive an oil change often depends on your manufacturer's recommendations. It's best to follow Nissan's recommended maintenance plan for your car to ensure your oil is being changed at proper intervals. In select situations, it may be necessary to have your car's oil changed more frequently in order to prevent future problems. If you regularly carry large loads, drive on dirt roads, drive at high speeds or have an older engine, it's best to have your car examined by our team of professionals at Nissan of McKinney to determine if your oil needs to be changed more often than recommended.
Contact us at Nissan of McKinney to learn more about our oil change services and other available maintenance offerings. We look forward to hearing from you and addressing your service needs.