Nissan Brake Repair in McKinney
Learn about Nissan brake service in McKinney by watching this short video.
Whether your vehicle has 10,000 miles on the odometer or  100,000 miles, it will benefit greatly from receiving regular brake maintenance. Brakes are the most important safety system on your Nissan vehicle, and routine inspections help ensure that they are working properly. Brake inspections also help detect whether any components need replacement or repair before they start causing major problems.
Benefits of Brake Service
Many people think brake service is only necessary after an issue starts to occur. However, bringing your car to our Nissan service center for routine maintenance is always the better practice. Regular brake inspections catch problems before they cause extensive damage, which can save you from costly repairs. They also ensure that your brakes continue to work properly, keeping you, your passengers and others on the road safe.
We recommend following Nissan's service intervals, which suggest brake service every 10,000 miles or so. This is especially important if you drive in conditions that put a lot of wear and tear on your brakes, such as heavy traffic.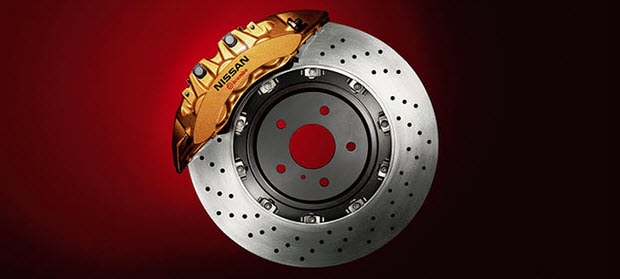 Signs Your Nissan Brakes Need Repair
There are several warning signs that your brakes need a part replaced or repaired. If you experience any of the following, it is vital that you schedule an appointment with a Nissan service technician right away:
The brake pedal feels loose, soft or spongy
When stopping, the brake pedal or steering wheel vibrates
Braking causes your vehicle to pull to one side
The brakes emit a grinding or squealing sound
It takes longer to come to a stop
Brake Service & Repair Near Dallas
At our Nissan auto repair shop, we perform a variety of brake services including complete brake inspections, Nissan brake pad and shoe replacement, rotor and drum resurfacing, brake fluid flushes and more. Our Nissan-certified service technicians have years of experience, and we guarantee you will be satisfied with your Nissan brake repair.
Brake problems can be highly stressful, especially when you are unsure of how much the repair will cost. At Nissan of McKinney, we offer a variety of brake service specials to get you the most affordable price possible. For more information on our services and pricing, give us a call or visit us at our Dallas-area dealership!
Service Hours
Monday

7:00 am - 7:00 pm

Tuesday

7:00 am - 7:00 pm

Wednesday

7:00 am - 7:00 pm

Thursday

7:00 am - 7:00 pm

Friday

7:00 am - 7:00 pm

Saturday

7:00 am - 5:00 pm

Sunday

Closed