About Titan Reviews for 2016 from Nissan of McKinney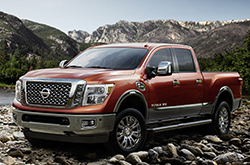 Strong, powerful and redefined are just some of the many adjectives used by 2016 Nissan Titan reviews when describing the all-new pickup in McKinney. Redesigned this model year with new engine options, updated features and a bold new look, the all-new Titan will garner double-takes as your truck-loving friends covet this light-duty truck with heavy-duty capabilities.
A major addition to this year's Titan comes in the form of the all-new XD frame. Larger, bolder and incredibly capable, the XD utilizes a Cummins 5.0L V8 turbo diesel engine to deliver heavy duty performance. Rated at 310 horsepower and 555 lb-ft of torque, you can rely on the Titan XD when it comes to on-the-job power. In fact, the payload's 2,000 pound maximum weight means you can carry up to a ton of materials with each load while the 12,000 pound towing capability is ideal for heavy haulers. Of course, the standard Titan is also a premium choice for light-duty work days thanks to the new V6 option that accompanies the previous gas V8 muscle.
One of the greatest benefits of the Titan XD in the eyes of 2016 Nissan Titan reviews is its ability to fill the gap between the light and heavy duty truck classes. An optimized combination, the XD showcases the affordability and comfort of a lighter duty pickup alongside the raw power and capability that can be found only in the strongest trucks. Top-notch drivability you'll feel from the first spin around town, the 2016 Nissan Titan in Dallas offers everyday amenity and extra convenience. From the NissanConnect 7-inch display, Advanced Drive Assist display and the push-button start engine to the 12-speaker audio system, supplemental cabin heater and available Zero Gravity seats, the Titan is a strong pickup engineered for everyday driving.
Of course the Titan doesn't come without plenty of potential for adventure. Between an integrated Gooseneck hitch, a rearview monitor with trailer guides and a slew of smart bed utilities, the Titan packs in plenty of features that will make your next camping trip or weekend at the lake go off without a hitch.
McKinney buyers will find plenty of potential in the all-new 2016 Nissan Titan in Dallas. Whether you're looking for the perfect truck for busy worksites, an agile pickup for everyday ride around town or a solid adventurer that's cut out for your active lifestyle, you will surely be pleased in all you will find in this versatile hauler.