Dallas-Ft. Worth Xterra Research on the 2015 Nissan Model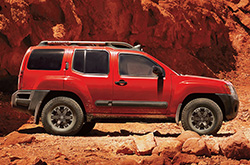 Most crossovers are not built to conquer the wild, unless your idea of conquering the wild is making it to the uppermost parking lot at a national park even though the ground is dusted with snow. If you really want to take that hill, you need a machine built for the job. 2015 Nissan Xterra reviews say this true off-roader offers rugged style, authentic off-road SUV ability and a range of well-equipped models.
Test-drive a 2015 Nissan Xterra in Dallas-Ft. Worth, and you'll see it looks like the tough truck-based and purpose-built machine it is. It also has the muscle to back it up. Much more powerful than most of the competition, the Xterra is equipped with a standard 4.0-liter V6 that cranks out 261 horsepower and 281 lb.-ft. of torque. That powerplant can be paired with either the six-speed manual or five-speed automatic transmission. This beast is ready to jump off the line and has plenty left over for for towing a trailer at freeway speeds or controlled descent down rugged terrain.
2015 Nissan Xterra reviews say it's an excellent pack mule. Check out the 36.3 cubic feet of cargo space with the rear seats upright or fold 'em down for 65.7 cubes. The available "Utili-track Cargo Channel System" provides adjustable sliding cleats that can be used to secure cargo in place. Because the spirit of adventure rarely allows time to put doilies over velveteen-upholstered seats, the Xterra's interior is made of smooth stain-resistant materials and the seats have tough, durable upholstery.
Other cool stuff includes an under-floor storage area for stowing extra gear, and a roof rack built from construction-grade aluminum that can handle up to 150 pounds. Steps built into the rear bumper make it easy to access the rack. There is also an optional built-in first-aid kit and space to secure gallon-size containers.
With three available trims, optional four-wheel drive, a bounty of tech and safety features and its rugged, ready nature, the Xterra can take you anywhere you want to go. See the 2015 Nissan Xterra in Dallas-Ft. Worth at Nissan of McKinney.