About Sentra Reviews for 2015 from Nissan of McKinney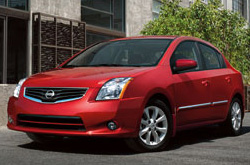 If you are ready for a sedan that offers mid-size spaciousness at compact prices, check out the 2015 Nissan Sentra in Dallas-Ft. Worth. The Sentra's well-designed cabin is spacious and welcoming. When you look at a gauge or reach for button, everything's exactly where you expect it to be. The dashline has flows across, tapering at the sides in a manner that optimizes space. Trims are an attractive mix of darker matte and glossy surfaces.
2015 Nissan Sentra reviews say this sedan's design gives it some swagger. The new Sentra features a lower, aerodynamic body that flares at the fenders for a bold upscale look. Finishing touches more often seen in premium vehicles give Sentra an aura of substance.
The 1.8 liter DOHC 16 valve four-cylinder engine comes with Nissan's continuously variable transmission or a six-speed manual. Rated at 130 horsepower, this engine strikes the right balance between pep and parsimony. Fuel economy is among the very best in the class and you have enough power to pass confidently.
The base model Sentra comes nicely equipped, but with seven trims to choose from, there is also a lavish amount of available options. For example, with the available NissanConnect system you can check the forecast, look up an address, crank up your favorite tunes and more. Put Bose premium audio systems, hands-free communications, keyless entry and push-button start on the list of add-ons as well. You can dress your Sentra to the nines and end up with a pretty primo ride for a pittance of a price.
Test-drive the 2015 Nissan Sentra in Dallas-Ft. Worth, and you'll notice the nimble, sure-footed feel. And you can choose from three drive modes to suit your mood or the driving conditions. Eco mode will help you get the most out of every drop of fuel. Normal mode delivers an optimal balance of performance and efficiency. Sport mode is for maximum responsiveness (and fun).
With the 2015 Nissan Sentra, you get a fuel-efficient compact sedan with a well-trimmed and spacious interior, a roomy trunk, and a nice set of features all at a reasonable price. Learn more as our 2015 Nissan Sentra review continues below.