Nissan Dealership in Dallas-Ft. Worth Reviews the 2015 Pathfinder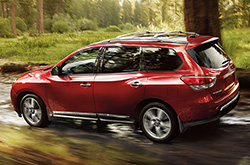 2015 Nissan Pathfinder reviews say with the Pathfinder's smooth ride, quiet cabin and nimble handling, it's easy to forget you are driving a seven-seat crossover utility vehicle. That's not surprising, because Nissan has taken some pains to make sure the automotive DNA of the Pathfinder provides the optimum balance between full-size sedan and SUV.
The designers clearly had an eye toward maximizing elbow room and comfort for passengers. The Pathfinder provides not only two usable rows of seating, but a third row more accessible and useful than any of the competition in the segment.
The Pathfinder's ride is quite smooth and refined, making it suitable even for long trips. Nissan put extra effort into reduction of noise and vibration, so occupants can remain blissfully unaware of rough road surfaces and can actually have a conversation using "indoor voices." 2015 Nissan Pathfinder reviews note the upscale feel to the passenger compartment and the abundance of bins, cup holders and even a useful tabletop.
Powering the Pathfinder is the proven Nissan 260-horsepower 3.5-liter V-6, which is also featured in the 370Z sports car and the Maxima sedan. A second powertrain option is found in the Pathfinder Hybrid. This teams a supercharged 2.5-liter four-cylinder engine with a 15-kilowatt (22-hp) electric motor. Going green doesn't have to mean creeping along.
The 2015 Pathfinder in Dallas-Ft. Worth comes in four different trim levels--S, SV, SL, and Platinum. Each of these offers the buyer an option of front-wheel or all-wheel drive. And because Nissan offers the Hybrid version in three of those four trims, you don't have to buy a fully-loaded model to get it. And Nissan doesn't skimp on the safety gear. All models come standard with dual front, front side and full-length side curtain airbags in addition to traction and stability control systems and a tire pressure monitoring system.
With its handsome styling, fuel efficiency, upscale feel and passenger comfort, we think the Pathfinder is poised to become a serious contender in its class. Be sure to check out the 2015 Nissan Pathfinder in Dallas-Ft. Worth at Nissan of McKinney.