Take a Look Dallas-Ft. Worth Nissan Shoppers - the Leaf has Arrived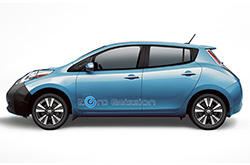 2015 Nissan LEAF reviews say this all-electric five-seat, front-wheel drive hatchback offers everything needed to please environmentalists, technophiles and those who just want to avoid the gas pump. In fact, since the LEAF uses no gasoline at all, the only reason you'd ever have to go there would be to air up your tires.
Take a look inside the 2015 Nissan LEAF in Dallas-Ft. Worth. Note the modern interior design and the open, airy cabin. You'll find the seats are roomy and maneuvering visibility is excellent. The easy-to-read Display Drive Computer places information at your fingertips. Other standard features on the 2015 Nissan Leaf include Bluetooth, automatic climate control, satellite radio, a USB port and a rearview camera.
Since the LEAF doesn't burn fossil fuel it produces zero emissions. The absence of an internal combustion engine also means the chronic vibration and engine noise we take for granted in other cars are completely absent in the LEAF. Nissan says the advanced 80kW AC synchronous electric motor provides the quietest, smoothest ride you've ever experienced.
Test-drive a 2015 Nissan Leaf in Dallas-Ft. Worth, and you'll notice the LEAF's signature power-up chime. All you have to do now is go. You've probably never felt anything like the LEAF's instant torque. The all-electric LEAF doesn't use traditional transmissions with numerous gears and ratios. As Nissan says, in the LEAF, go means go. All the power is there when you touch the pedal, with no lag and no revving-up or shifting. The ride is agile, the steering is communicative and cornering is smooth and sure-footed.
The LEAF not only frees you from the gas pump, but from the ongoing expense of oil changes and pricey regular maintenance that accompanies internal combustion cars. The 84-mile range between charges is more than enough for the vast majority of commuting needs. The LEAF can be charged at work, home, or at any number of the charging stations springing up across the country, so you can begin counting your travel costs in pennies instead of dollars. Learn more at Nissan of McKinney or continue reading our 2015 Nissan LEAF review below.