Nissan Dealer in Dallas-Ft. Worth Reviews the New GT-R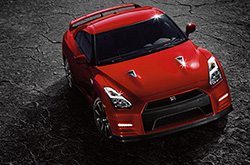 2015 Nissan GT-R reviews say this high-performance 2+2 sport coupe ranks as one of the world's top-performing production cars, rivalling those that can cost twice as much. Nothing comes close to the GT-R's 0-60 mph times of less than 3.0 seconds, or its brilliant all-wheel-drive handling. Kelly Blue Book says of the 2015 GT-R, "Its cornering grip borders on surreal."
Feast your eyes on the 2015 Nissan GT-R in Dallas-Ft. Worth and you will see a world-class sport car. Its sleek distinctive profile blends sharp angles with rounded contours that give it a bullet-like 0.26 coefficient of drag that let it slice through the air. The enormous front-fender vents provide front downforce and staggered-width 20-inch aluminum-alloy wheels further assist the GT-R's stability. Powered by an awe-inspiring twin-turbo 3.8-liter 6-cylinder engine that cranks out 545 horsepower and 463 lb.-ft. of torque, the GT-R delivers the performance to blaze by a lot of better-known exotics.
The GT-R's inside is as performance-minded as the rest of it. Slide behind the wheel and you'll immediately notice the big red start button situated just below the gearshift. The front console has a trio of switches to control ride and handling settings, and the 7-inch center display relays all kinds of performance data, including the torque split between wheels, transmission oil temperature, lap times and G-forces generated during aggressive cornering. The relatively high seat position and long doors make getting in and out of the GT-R easy, unlike most performance cars. The standard front seats offer surprisingly good comfort for such a performance-oriented machine, giving the GT-R excellent touring cred.
Standard safety features on the Nissan GT-R include antilock disc brakes, stability control and traction control, front-seat side airbags and full-length side curtain airbags. In its 2015 Nissan GT-R review, Edmunds said the GT-R's stopping power is on par with the world's best, achieving deceleration from 60-0 in just 99 feet.
For world-class performance at an amazing price, see the 2015 Nissan GT-R in Dallas-Ft. Worth at Nissan of McKinney.