Nissan 370Z Comparisons & Quick Specs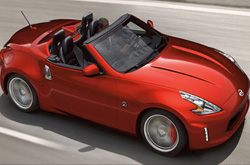 We double dog dare you to compare the newest 370Z model next to classmates like the 2014 Hyundai Genesis Coupe, Dodge Challenger, Ford Mustang and the Chevrolet Camaro. That's how confident we are that it's the best match for you. The 370Z's got several outstanding attributes, including its leading-edge features and exquisite exterior styling. When comparing its price to the forementioned vehicle options you will easily see that Dallas Nissan customers select it because it's a truly amazing value. Find out more - Take a look at the bullets below!
2014 Nissan 370Z Body Style(s): Coupe
2014 Nissan 370Z 0-60 MPH in 5.1 seconds
2014 Nissan 370Z Seats: 2 passengers
2014 Nissan 370Z MPG: 18 city / 26 highway
2014 Nissan 370Z Cargo Space: 7 cubic feet
2014 Nissan 370Z Doors: 2-door
2014 Nissan 370Z MSRP: $29,990
2014 Nissan 370Z Colors: Magnetic Black, Solid Red, Midnight Blue, etc...