Prominent Specs for the Nissan Quest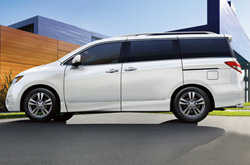 If you've ever thought about purchasing vehicles like the 2014 Honda Odyssey, Kia Sedona, Chrysler Town & Country and the Toyota Sienna in Dallas, compare Nissan's new 2014 Quest first; we're positive that it's ideally suited for you. Just a few of the characteristics that shoppers in TX will appreciate are the Quest's sharp styling and inexpensive cost. Many drivers in Dallas choose it because it's a truly amazing value; compare its price to the aforementioned vehicles to see for yourself. For more details about its vehicle specs, check out the Quest's quick-facts list below.
2014 Nissan Quest Body Style(s): Minivan
2014 Nissan Quest 0-60 MPH in 8.5 seconds
2014 Nissan Quest MPG: 19 city / 25 highway
2014 Nissan Quest Seats: 7 passengers
2014 Nissan Quest Doors: 4-door
2014 Nissan Quest MSRP: $25,990
2014 Nissan Quest Cargo Space: 25.7 cubic feet
2014 Nissan Quest Colors: Brilliant Silver, Titanium Beige, Dark Mahogany, etc...