Compare the Nissan Leaf's Specs & Features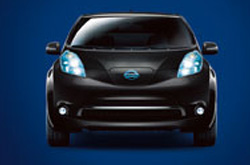 The 2014 Toyota Prius, Ford Fusion Hybrid and the Chevrolet Volt are no match for the 2014 Leaf! Just compare Nissan's most current model against them and you'll see that it scores higher than the competition easily. If the Leaf's affordable MSRP and user-friendly cabin features don't persuade you that it's the best vehicle for your needs, we're sure its attractive exterior styling will seal the deal. You'll easily see it's a fantastic value when you compare its price to competing vehicles. Scan our Quick List under this text to find out more!
2014 Nissan Leaf MSRP: $32,780
2014 Nissan Leaf Seats: 5 passengers
2014 Nissan Leaf 0-60 MPH in 7 seconds
2014 Nissan Leaf Cargo Space: 24 cubic feet
2014 Nissan Leaf Body Style(s): Compact Sedan
2014 Nissan Leaf Doors: 4-door
2014 Nissan Leaf MPG: 106 city / 92 highway
2014 Nissan Leaf Colors: Blue Ocean, Super Black, Pearl White, Cayenne Red, etc...