About Murano CrossCabriolet Reviews for 2013 from Nissan of McKinney
Thank you for selecting Nissan of McKinney as your source for 2013 Nissan Murano CrossCabriolet reviews. There is a reason Nissan of McKinney is the stellar Nissan dealer in McKinney TX. We provide you with Murano CrossCabriolet reviews by the best writers in McKinney TX. As you read this article, you'll see that it is stuffed with important information on all of the things you'r looking for in the new Murano CrossCabriolet. Nissan of McKinney is always available 7 days a week to answer questions you have. Do not hesitate to call us to speak with our Murano CrossCabriolet specialists.
Watch a Video on the New Murano CrossCabriolet
Quick Introduction to the New Nissan Murano CrossCabriolet in McKinney TX
Salient Nissan Murano CrossCabriolet Specifications
When comparing the 2013 Nissan Murano CrossCabriolet to the 2013 Lexus RX, Infiniti JX and the Ford Expedition, and you'll see that the Murano CrossCabriolet out does those autos in various aspects. Browse just a few of the reasons below.
2013 Nissan Murano CrossCabriolet Body Style(s): Convertible SUV
2013 Nissan Murano CrossCabriolet Seats: 4 passengers
2013 Nissan Murano CrossCabriolet Cargo Space: 31.6 cubic feet
2013 Nissan Murano CrossCabriolet Colors: Pearl White, Merlot, Caribbean, etc...
2013 Nissan Murano CrossCabriolet 0-60 MPH in 8 seconds
2013 Nissan Murano CrossCabriolet MSRP: $44,540
2013 Nissan Murano CrossCabriolet MPG: 18 city / 24 highway
New Features Available on the Nissan Murano CrossCabriolet in McKinney TX
2013 Murano CrossCabriolet Warranty & Safety Technologies
Our Nissan Service Center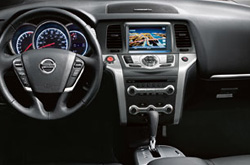 Don't look to a independent car repair shop in McKinney TX when Nissan of McKinney's fantastic Murano CrossCabriolet experts are only a quick spin away from your house. We also throw in a long-term warranty on our jobs - more than most independent shops do. Your Nissan will stay in premium shape with maintenance from the masterly auto repair team at Nissan of McKinney's service center. We handle big, tedious repairs like muffler repair, as well as simple undertakings such as customary inspections, tire rotation and replacement and a wide array of specially requested services. For both difficult and easy to complete services, our McKinney TX car repair center does everything; conjointly Nissan of McKinney offers low-cost maintenance pricing. When you visit Nissan of McKinney's service department, take advantage of tremendous savings with our the latest specials. Click below this text!