[Dealership Name] is thrilled to be the foremost site for the Nissan Cube in TX. Nissan of McKinney is an Nissan dealership and carries a massive inventory of New Nissan Cube and top quality and high value Used Nissan Cube and other cars & trucks.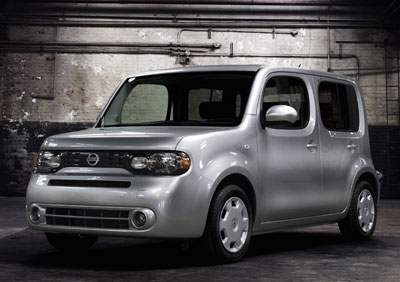 When buyers compare the Nissan Cube to other makes like the Honda Fit, Kia Soul and Scion xB, the 2011 Nissan Cube shines as the most fun-to-drive. Starting with the 2010 Nissan Cube, owners found this affordable Comapct Wagon's crisp handling and lively acceleration to be reason enough to choose.
The 2011 Nissan Cube might be small, but good things come in small packages, especially when it comes to safety features. Due to the side-mounted curtain airbags, as well as the roof air-bags, all passengers are highly protected from possible head trauma. For passengers riding in the forward two positions, additional protection is offered by dual-stage airbags that will deploy during a front collision, and seat-mounted airbags will activate during side impact. Unique hood buckling components and rear and front crumple zones also add to the safety of Cube. Further, The Cube also includes Traction Control and Vehicle Dynamic Control to even further reduce the chance of injury.
The Nissan Cube has a single engine option with a 1.8-liter, four-cylinder unit that gives 122-hp and 127 lb/ft of torque. The two transmissions choices include a continuously variable (CVT) automatic unit or six-speed manual. CVT does offer a small advantage over the manual for fuel economy, providing 27 mpg city and 31 mpg highway / two mpg better than the manual in town.
The Cube's exterior features rounded edges and gentle slopes making its square shape feel less geometric and more organic. The wraparound glass on the right rear corner of the vehicle helps in reducing blind spots for the driver as well as adding just a little more flair to the look and feel of the one-of-a-kind Cube.
Due to all of Cube's accolades, Cube has received several honors. It was the recipient of 2010 Top Safety Pick designation from the Insurance Institute for Highway Safety (IIHS). The 2010 Nissan Cube also received the "Best in Class Vehicle Satisfaction Award" from AutoPacific. Kelley Blue Book's website, KBB.com, lists Cube as one of its 2010 "Top 10 Road Trip Cars" as well as the 2009 Nissan Cube being rated in the "Top 10 Coolest Cars under $18,000." Additionally, Nissan Cube wins AUTOMOBILE Magazine's "2010 Design of the Year".
The Cube is for sale at your foremost Nissan dealership. The Cube provides a pleasant driving experience and a smooth ride. Whether you're looking for a gently used 2008 Nissan Cube, a certified pre-owned 2009 Nissan Cube, a pristine 2010 Nissan Cube, or a brand new 2011 Nissan Cube, Nissan Dealer, Nissan of McKinney is your #1 resource. We have a variety of Cubes for sale, including the Cube SUV, Cube 1.8, Cube 1.8 S, Cube 1.8 S Krom Edition, and the Cube 1.8 SL.
Nissan of McKinney offers the Nissan Cube a 4-door Comapct Wagon which seats 5 people sufficiently. The Cube weighs 2768 pounds, is 156.7 inches long, 66.7 inches wide, 65 inches high, and the Nissan Cube's turning radius is 33.4 feet. highly uncrowded for its class, the Cube has 42.6 inches of headroom in the front, and 42.4 inches of legroom up front. In the Cube's back seat, there are 40.2 inches of headroom and 35.5 inches of legroom. Need to bring a lot of luggage? The Cube trunk holds up to 11.4 cubic feet of your gear. So, take a break and have fun!
Standard Nissan safety features included in the Cube are traction control, anti-lock brakes, side airbags, driver airbags, side-impact bars, seat-belt pre-tensioners, passenger airbags. With all these features, the Nissan Cube is always rated extraordinarily by the IIHS and NHTSA.
The Cube also has a raft of comfort and convenience features, including power steering, remote locks, power windows, power mirrors, climate control, cruise control, air conditioning, power seats, adjustable steering wheel, and more! Especially nice are available hands-free phone and navigation. Test drive the Nissan Cube in at Nissan of McKinney.
Like all Nissan cars & trucks, road handling and performance are top priorities for the Cube. Passing horsepower in the base Cube is 122 bhp @ 5200 rpm, and producing excellent torque 127 ft lb @ 4800 rpm foot pounds/rpm, the Cube accelerates briskly from 0 to 60 mph in just 9.7 seconds. If you want to go that fast, the Cube has a top speed of 106 miles per hour. Despite this excellent power train output, the Nissan Cube's fuel economy is rated at 25 miles per gallon in the city and 30 highway miles per gallon. With a fuel tank capacity of 13.2 gallons, the Cube cruising range is well above average. Truly a performance car!
The Nissan manufacturer's warranty covers the Cube for manufacturing defects and has these specifications 3 years / 36,000 miles. Nissan has worked for years to minimize enviromental impact, and the Cube's carbon footprint is rated at . Not surprisingly, with all these Cube advantages, this great Nissan Comapct Wagon retains percent of its value at 3 years and 36,000 miles, which makes the Nissan Cube a great used buy!
When seeking safe, economical, sporty and stylish Comapct Wagon, McKinney buyers should head to the Nissan dealer of choice, Nissan of McKinney at 3800 S. Central Expressway in McKinney [Dealership State].