In 2019, the Nissan Pathfinder family offers plenty of great options. Even starting with the base trim, you can't go wrong with this rugged, reliable, stylish, and tech-savvy SUV. But among the lineup, there is one that stands out for its durability, unique appearance, towing capacity, and off-road readiness. This model, called the Rock Creek, is just as hardy and ready for adventure as the name suggests. In 2019, the Rock Creek edition is made to impress, inside and out, with a variety of standard and available features. If you're planning to take the car for a test drive, this is what you can look forward to.
Off-Road Endurance
The 2019 Rock Creek trim is designed to tackle the toughest back roads, and it looks like it, too. This trim level features signature black accents such as blacked out front and rear fascias, a blacked out front grille, and black trim by the wheels. The 2019 Rock Creek also comes with larger tires than last year (18 inches). This gives the Rock Creek a distinct appearance, but it also makes driving on difficult terrain easier. The tires, which are about 0.4 inches wider than last year's, give the 2019 Rock Creek that much more balance, stability, and control. The rugged tires are also paired with durable all-season tires that are ready to power through mud, snow, and sand. There are two drivetrain options on this year's edition – two-wheel drive and four-wheel drive. You can tow up to 6,000 pounds with either. You'll also get a towing hitch and splash guards with either version. But the four-wheel drive version gives you the most traction and grip on the trail. It also comes with unique custom badging that lets (envious) fellow drivers on the road know exactly what car you're driving.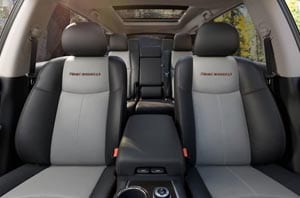 Creature Comforts
The 2019 Rock Edition Pathfinder certainly looks tough. But inside, it is very comfortable and luxurious. Premium features on this trim level include heated seats and a heated steering wheel. A larger panoramic sunroof adds to your sense of adventure. Additional amenities, which are standard on the higher trim levels, include leather seats and an eight-inch infotainment screen with optional navigation. Another handy amenity, especially if you are pulling a trailer, is a standard backup camera. The camera is paired with Nissan's innovative rear sonar system to tell you exactly where objects are in your path of reverse travel. A remote engine start and push-button control are other highlights that will make any ride more pleasant, no matter how far you are planning to travel.
Extras
Like any vehicle, the Rock Creek edition comes with additional amenities and packages. You can give the car a more blacked-out appearance with signature black accents on the side mirrors, roof rails, and door handles. Instead of the standard 18-inch wheels, you have the choice of upgrading to larger 20-inch wheels instead. The interior can be upgraded with leather seats and attractive metal accents. Regardless of what package you get, the 2019 Rock Creek comes with a choice of seven exterior paint colors to give it a personalized finish.
Any Nissan Pathfinder can take you on off-road adventures, but the 2019 Rock Creek edition is especially ready for tough roads. With a custom exterior, a variety of creature comforts, and plenty of options for a tailored finish, the Rock Creek is certainly a Pathfinder to consider. If you want to learn more or take one for a test drive, we look forward to meeting your needs.