What Is The Nissan Altima Edition ONE?
For anyone in the market for a new sedan, there are a seemingly endless choice of different makes, models and trim packages for you to consider. In this sense, trying to find the sedan that perfectly matches your personal style and specific tastes can be a bit like searching for a needle in a haystack. The fact is that, with so many different options to consider, it can almost be impossible to even know where to start. For this reason, we're here to tell you all about the all-new 2019 Altima Edition ONE, which combines the Altima's impressive style and performance with a range of additional features, details and technology to make it the total package.
Getting to Know the 2019 Altima Edition ONE
In terms of overall power, performance and design, there is little, if anything, that separates the 2019 Altima Edition ONE from other 2019 Altima sedans. Still, as the old saying goes, the devil is in the details. This means that once you start to look closely at the Edition ONE, you'll quickly begin to see how it stands head and shoulders above the other sedans in a few important ways.
For starters, the Edition ONE features exclusive dark-grey aluminum alloy wheels for added exterior style. The addition of premium leather seats and cabin accents and exclusive Edition ONE carpeted floor mats also provide a more luxurious look and feel to the interior. When combined with the Altima's other stylish features like illuminated kick plates, external ground lighting and rear spoiler, you have a vehicle that is guaranteed to draw jealous stares from everyone you pass.
Introducing the Exclusive Altima Edition ONE Concierge Service
With the Altima Edition ONE, Nissan has taken roadside support and convenience to a whole new level. This stunning sedan is the first vehicle in the company's lineup to include the all-new Nissan Concierge service, which gives drivers around-the-clock access to their own team of personal assistants. Better still, all new Altima Edition ONE comes with three years of complimentary concierge service. This means that you'll be able to enjoy all of the benefits of your own personal concierge without having to pay a thing.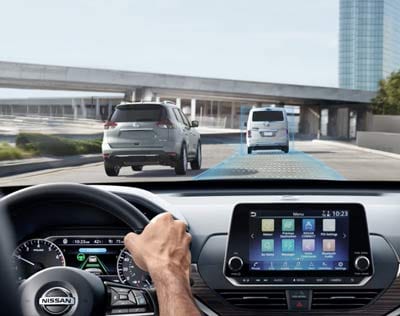 Your Nissan Concierge service can be accessed directly via your vehicle's dashboard display, and you can even access the service when you're not in your vehicle by text, email or phone. Not only that, the system is fully compatible with both Google Assistant and Amazon Alexa, which means you can access it using voice commands whether you're at home or on the road.
To say that Nissan Concierge is a full-service personal assistant is really something of an understatement. In fact, there is very little that you can't do. Whether you're looking to book flights, make hotel reservations or other travel arrangements, all the help you need is only the push of a button away. Similarly, you can use the concierge to make dinner reservations, find seating at special events or even get movie reviews and book tickets. Online shopping, road and weather information, driving directions and even booking a taxi or rideshare are all immediately possible thanks to the outstanding Nissan Concierge system.
Although Nissan has plans to eventually expand this personal assistant system to other models in the coming years, if you want to take advantage of its entire amazing range of benefits right now, the only way to do so is in the 2019 Altima Edition ONE. To learn more about Nissan Concierge or the Altima Edition ONE, don't hesitate to contact us or stop by our dealership where our friendly, knowledgeable sales associates will be happy to answer any of your questions.