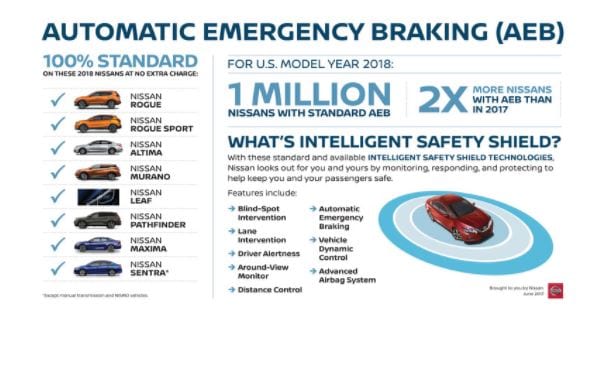 Nissan takes safety seriously – so much so that the automaker has announced plans to equip its most popular models with standard Automatic Emergency Braking for the 2018 model year. Those models include the Nissan Altima, Murano, LEAF, Pathfinder, Rogue, Maxima and Sentra.
The highly revered system uses radar technology to monitor a vehicle's proximity the car ahead, alerting the driver through visual and audible warnings to slow down if a possible frontal collision is determined. According to the National Highway Traffic Safety Administration (NHTSA), technologies like AEB can help lower injury insurance claims up to 35 percent.
"This increased AEB availability is part of our ongoing commitment to help reduce fatalities while realizing our comprehensive vision of Nissan Intelligent Mobility," said Michael Bunce, vice president, Product Planning, Nissan North America, Inc.
Aside from this top-notch safety feature, all Nissan models already come standard with a variety of other advanced safety systems, including antilock brakes, various high-quality airbags and seatbelt pretensioners.
If next-generation safety equipment is at the top of your wish list for next new vehicle, consider choosing a new Nissan car, truck or SUV. When you find the one that's right for you, stop by our dealership and take it for a spin!